A Customer Application is designed with ease to help the customers place their food
delivery order by browsing multiple restaurants and its menu.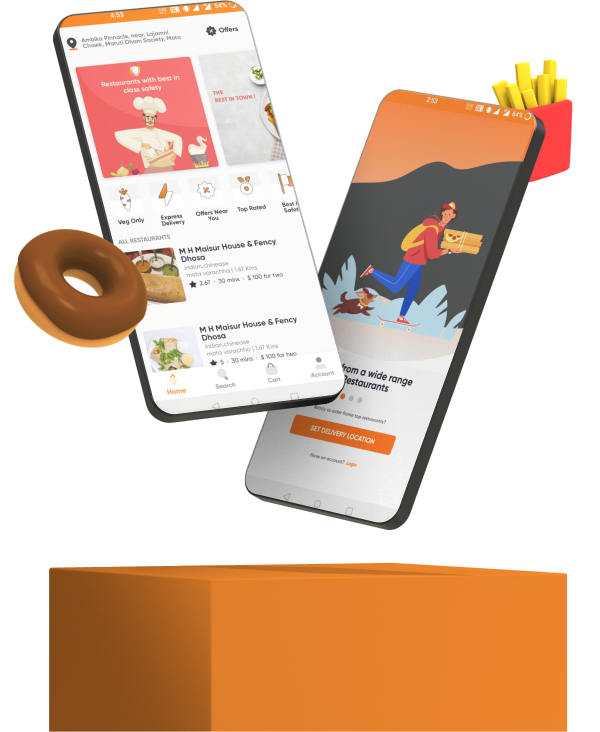 1

Nearby Restaurants

Customer's search for food items in nearby restaurants. He‌ ‌can‌ ‌also‌ ‌search‌ ‌the‌ ‌name‌ ‌of‌ ‌restaurant‌ ‌or‌ ‌specific‌ ‌category‌

2

Restaurant Details

Users can view the various restaurants, compare, and choose or add food to the cart and customize if needed.

3

Push Notifications

Customer will receive notifications as soon as he placed the order. He will receive the notification since his food will start preparing, delivery man will start from restaurant, delivery man will complete the order.

4

Coupon Management

Customer‌ ‌can‌ ‌avail‌ ‌the‌ ‌coupon‌ ‌codes/promo‌ ‌codes/offers‌ ‌given‌ ‌my‌ restaurants‌ ‌or‌ ‌admins.‌ ‌He‌ ‌can‌ ‌add‌ ‌the‌ ‌coupon‌ ‌codes‌ ‌in‌ ‌his‌ ‌final‌ ‌cart‌ ‌and‌ ‌hence‌ ‌utilize‌ ‌it‌ ‌by‌ ‌lowering‌ ‌final‌ ‌amount.‌

5

Multi Payments

Users can make online payments using the food delivery app. We‌ ‌have‌ ‌Cash‌ ‌on‌ ‌Delivery‌ ‌(COD)‌ ‌enabled‌

6

Rating & Reviews

Customers can give feedback, reviews, and ratings based on service, pricing, and quality.

7

Referrals & Earn

This feature allows customers to refer to the app to friends & family. Upon successful referral, the amount will be credited to customers in-app wallet.

8

Offers & Promotion

In order to elevate their business transaction, restaurants can intently devise propaganda strategies by providing various offers and discounts.